Introduction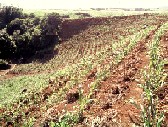 Research on cultural operations consists of projects aiming at reviewing existing cultural practices or developing new ones to improve cane productivity or adapting them to changes in the production system. Minimum Tillage Practice (MTP) was developed in the 1970s as a planting technique on sloping lands and, later on, on flat lands.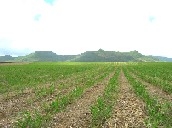 Since 1992, trash blanketing is advantageously replacing the traditional trash lining (on alternate interrows) practice in the subhumid and humid areas. Partially Mechanized Planting (PMP) was developed as an alternative to mechanical planting to reduce labour, particularly female one, required during planting in 1993.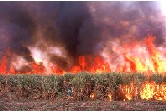 Cool-burning consisting of burning cane early in the morning was shown to reduce particulate matter emission by more than 60 % compared to the traditional practice and has been included as a prerequisite in the code of burning practice in 2002. A new system to plant cane on ridges in high rainfall areas was recommended in 2004. The practice is less labour-intensive whilst partially mechanized planting and mechanized harvest is possible. Moreover, the ridging operation will also bury any weeds present.

Recently (2006) changes in cane row spacing with the adoption of dual row planting offers great potential to increase cane productivity and machine efficiency without increasing inputs (planting material and fertilizer). It consists of pairs of rows 0.5 m apart with 1.8 m between their centres. In line with more recent economic and agronomic developments in the industry, new cropping systems are being investigated to meet the challenges. The new systems involve more integrated practices with the basic principles of reduced tillage, controlled traffic (by matching row spacing to vehicle track width) and a leguminous fallow break.
The Department is also involved in research projects relating to farm planning and soil conservation; farm plans are produced using Digital Terrain Modelling (DTM) technique. A project initiated in 2001 to study soil erosion has confirmed the contribution of sugar cane to control erosion, particularly in high risk areas where slopes can exceed 20%.
Weed Agronomy is the study of the ecology and biology of weeds, their effect on different crops and their control

by vari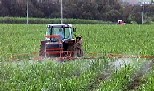 ous methods, especially by the use of herbicides.
One of the main tasks of the weed agronomy section has been the evaluation of new herbicides; some 150 herbicides have been tested during the last 50 years and some 25 recommended to the planting community. Herbicides have also be

en screened for use in foodcrops, planted in sugar cane interrows or in full stand. In the recent years, significant progress has been achieved in spraying techniques, more particularly with introduction of air-inclusion nozzles. The current R&D programme is focused on developing weed management strategies with the objectives of reducing cost and amount of herbicides.
Objectives
Cultural Operations
Increase yield of cane and sugar per unit area

Improve efficiency of labourers

Reduce cost of production

Conservation of the environment

Modify and/or adapt existing cultural practices to mechanization
Weed Agronomy
Develop weed management strategies to reduce cost and amount of herbicides

Evaluate new products which are safer for the environment and that improve herbicidal efficacy (residual activity or spectrum of control)

Improve efficiency of spraying
On going research projects
Cultural Operations
Development of new integrated cropping systems for sugar cane

Effect of gaps and other cultural practices on ratoon decline

Design of drains and farm planning for mechanical harvest in the superhumid areas
Weed Agronomy
Management and control of vine weeds in sugar cane
Creation of GIS spatial database for the different weed species
Effect of new adjuvants on efficacy of herbicides
Development of weed management strategies including critical periods of weed competition, relative competitiveness of major weed species, etc.

Screening of new herbicides with broader spectrum of control or longer residual activity or for substituting hormone-type herbicides

Tolerance of new varieties to herbicide mixtures and development of a quicker method of evaluation

Evaluation of new spraying techniques including use air-assisted spraying

Influence of soil properties on residual activity of herbicides and amendment of current recommendations

Weed seedbank assessments
Link to 'AdventOI'- Weed identification software
Contact
Dr Suman Seeruttun
Research Manager
Email: suman.seeruttun@msiri.mu
Tel: 454-1061
Fax: 454-1971
---
Mechanization
Introduction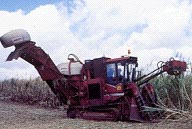 The department carries out research on the mechanization of cultural operations for sugar cane and food crop production in the following fields:
Objectives
studies on the effect of mechanisation on soil and crop

choice of appropriate equipment to replace labour in view of lowering production costs
On going research projects
1. Reducing production costs
cost-effective land preparation sequences for different climatic zones

cost-effectiveness of mechanical planting

mechanization of transplantation of in vitro sugar cane plantlets

new modes of handling and application of fertilizers

cost-effectiveness of mechanical harvesting

cane transport

mechanization of food crop production
2. Relieving labour from the arduous aspects of agricultural work

evaluation of various loading and harvesting systems for superhumid areas

mechanization of scum and cement spreading

3. Minimizing the ill effects of mechanization on soil and crop
reduction of the level of extraneous matter in cane sent to the mill

use of appropriate equipment to minimize soil degradation

test new varieties before release for suitability to mechanization
4. Environment friendly measures
use of anti-drift tractor-mounted sprayers

promotion of green cane harvesting – solving of associated problems

identification of equipment for mechanical weeding to reduce the use of herbicides

land preparation

planting

fertilizer and pesticide application

harvest

loading

transport
Contact
Mr Vivian Rivière
Research Manager
Email: vivian.riviere@msiri.mu
Tel: 454-1061
Fax: 454-1971