Introduction

The Irrigation Department is responisble for conducting research in irrigation and management of land resources.
In irrigation the main research themes under study are:
Irrigation of sugar cane and associated crops

Soil physical studies in relation to irrigation, drainage, land preparation and mechanical harvesting

Hydrology and soil erosion
Objective
The major objective is to optimise water use for plant growth.

This requires:
A good understanding of the available irrigation systems;

The proper choice of irrigation system in relation to climate, soil and topography;

The development of sound irrigation management practices;

The development of software for irrigation scheduling.

On going research projects
1. Drip irrigation of sugar cane
2. Centre Pivot Operation
3. Optimisation of cane productivity with available resources
4. Irrigation with water from non-conventional sources
5. Soil physical studies
6. Hydrology and soil conservation studies

1. Drip irrigation of sugar cane

The Irrigation Department has long been associated with research in drip irrigation of sugar cane in collaboration with the Institute of Hydrology (UK). The physical processes controlling the response of the crop to different combinations of irrigation regimes, dripline placement, irrigation rates and cane row spacing have been studied. Problems associated with the system have been well mastered and its advantages highlighted. The system is now being studied under fully mechanised conditions and in the new cropping system. Drip irrigation is considered as the most efficient of all systems and hence its choice in various irrigation projects both in the private and public sectors.
2. Centre Pivot Operation

The centre pivot irrigation system, capable of irrigating large areas, is gaining importance and is replacing the existing overhead system. To help centre pivot users to operate and to maintain the system the Department has produced an operation and maintenance manual and has developed an irrigation scheduling software (IRRIPIVO).
3. Optimisation of cane productivity with available resources
There are numerous constraints to optimal cane productivity, in terms of water, labour and irrigation systems. An Irrigation Management Information System (IMIS) is required as a tool for planning day to day management, and for data analysis and irrigation scheduling of multiple irrigation systems. This information system will be used in conjunction with a Geographical Information System to spatially capture, store, manipulate and manage irrigation-related datasets such as climate, soil and water budgeting. Ultimately, IMIS will allow the irrigation manager to allocate the available resources (water, labour, etc.) for optimal cane productivity.
4. Irrigation with water from non-conventional sources
Wastewater from various sources can be a major problem to the environment and has to be disposed of without being a health or environmental hazard. With the gradual reduction in water for agricultural purposes, this type of non-conventional water can be of interest for irrigation, so long as it does not harm the environment or the irrigation equipment. Long-term effects of using factory wastewater for irrigation are being studied. If there are no detrimental effects on crop, soil or lifetime of irrigation equipment, this wastewater will lead to yield increases while being disposed of in an environmental-friendly manner.
5. Soil physical studies
The study of the physical characteristics of the soil is another important activity of the Department. Soil physical studies are useful in:
6. Hydrology and soil conservation studies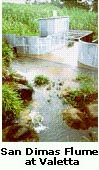 With the increased public awareness of environmental issues, soil erosion under cane cultivation has to be studied in relation to the long-term sustainability of the industry. Rainfall, soil physical properties and cultural practices directly affect runoff and soil erosion. In addition to field studies, computer modelling is being used to quantify the impact of various practices under different climatic conditions.
Land Resources

As land is a scarce resource, the research and development programme at MSIRI also aims at evaluating the available land resources for sustainable production of sugar cane and food crops. To this effect, several surveys undertaken have led to the production of the following technical documents:
Soil map of Mauritius - 1965
Agro-climatic map of Mauritius - 1969
Land resources and agricultural suitability map of Mauritius - 1973
Land resources and agricultural suitability map of Rodrigues - 1975
Carte Pedologique de L'Ile Maurice (Pedological map of Mauritius) - 1984
Carte Pedologique de L'Ile Rodrigues (Pedological map of Rodrigues) - 1985
Slope map of Mauritius (unpublished)
Map of irrigation status of sugar cane lands – 2000 and updated in 2007
Map of suitability of cane lands for potato & tomato – 2002
Map of derocking of sugar cane land – 2002 and updated in 2007
Map of suitability of sugar cane land for mechanization – 2002 and updated in 2007
To strengthen and enlarge the existing databases that will serve for further increasing productivity in the sugar cane industry and in monitoring the impact of the industry on the environment, the following projects are being undertaken:
Updating and maintenance of the Land Index Databases, with particular emphasis on the development of the digital cartographic database at field level for large/small-planters
Identification of constraints to productivity and formulation of corrective measures
Monitoring the evolution of irrigation, derocking and mechanization.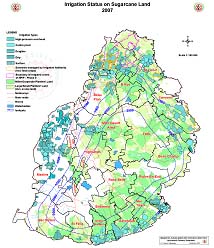 Assessing and mapping of land use and other characteristics of the land.
Assessing spatial variability for sugarcane land management for increased productivity by using multispectral radiometer, soil sensors and satellite imageries.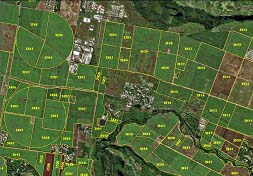 Assessing the impact of spatial field variability on sugar cane production and the feasibility of establishing site specific management zones for managing spatial variability.
Rehabilitation of small-planters' cane land.
Field layout extraction using SPOT panchromatic image and air photos.

The Department has fully-qualified staff and a well-equipped laboratory as well as field equipment to deal with the various aspects of irrigation management, surface drainage and soil physical studies.

Services are provided to local as well as overseas sugar cane producers.

Contact
Dr Ronald Ng Cheong
Research Manager
Email ronald.ngcheong@msiri.mu
Tel: 454-1061
Fax: 454-1971